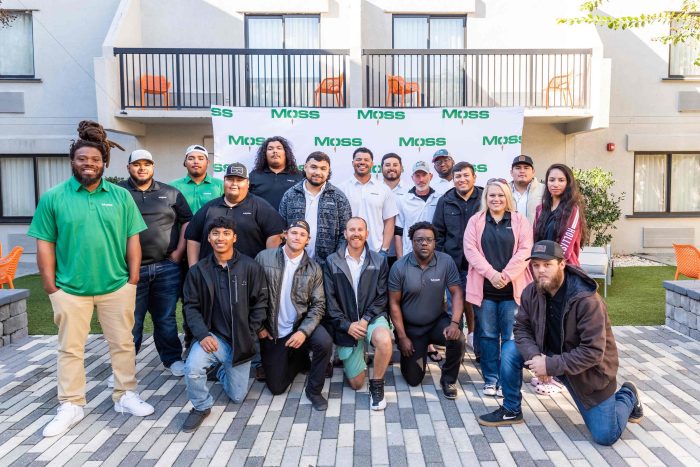 The global solar industry is growing at a massive rate, which necessitates the need for a skilled workforce large enough to handle the increased demand.
The International Energy Agency (IEA) "Renewables 2022" report forecasts global renewable power capacity to grow by 2,400 GW in 2022-2027, with cumulative solar PV capacity to nearly triple to more than 2,350 GW by 2027, surpassing hydropower in 2024, natural gas in 2026 and coal in 2027 to become the largest installed electricity capacity worldwide.
In the United States, last year's passage of the Inflation Reduction Act (IRA) is driving growth in the solar market through increased funding and tax credits for project development.
Wood Mackenzie is predicting strong growth for all sectors of the U.S. solar industry in the coming years. In 2023 alone, the market research firm predicts an 84% increase in utility-scale installations and a 17% increase in commercial solar. While residential solar will likely remain flat this year, the firm expects strong growth in 2024 and beyond.
With the influx of federal funding and tax incentives placing the U.S. solar industry on firm ground for growth, there's a major emphasis on workforce development. The IRA established a 30% investment tax credit (ITC) for 1 MW and larger solar projects, which is tied to meeting requirements for prevailing wages and apprenticeship participation.
Prevailing wage standards specify hourly wage rates for workers (including apprentices) in skilled construction trades, requiring contributions to workers' benefits such as healthcare, paid time off, retirement funds and apprenticeship training.
To get the 30% tax credit, companies must have a registered apprenticeship program (RAP), either state or federal. Federal regulations require apprenticeships to be at least one year long with on-the-job experience and related instruction, with a total of at least 144 hours per year of instruction and 2,000 hours per year on the job. State regulations are similar but can be more stringent in some cases.
The IRA apprenticeship program requirement is met when the hours worked by qualified apprentices fulfill a set percentage of the total hours worked on a construction project. Those percentages are:
12.5% in 2023
15% in 2024 and beyond
Additionally, each apprentice needs a mentor, which could mean another 15% for supervisors associated with apprentices on a jobsite at a 1:1 ratio.
With all that said, let's take a look at how some EPC firms are preparing to meet these requirements.
Developing in-house apprenticeship programs
Florida-based Moss Construction and Illinois-based Rethink Electric are two companies that have developed their own apprenticeship program.
In November, Moss enrolled the first 20 participants in its Solar Installer Apprenticeship Program to meet the growing demand in utility-scale solar energy construction field.
"The Moss apprenticeship program was developed in response to the labor needs facing our growing industry as well as to address the recently passed IRA legislation requiring apprentice to journey worker ratios," said Andrew McAllister, president and chief scaling officer at Moss. "It also reinforces Moss' focus on safety and quality by having an exceptional workforce."
Moss anticipates 80 to 100 participants in its apprenticeship program by the end of 2023. The company's Solar Installer Apprenticeship Program is open to all Moss team members. To be considered for the program, applicants must be at least 18 years old and meet other established program criteria. Moss apprentices receive 4,000 hours of supervised on-the-job training in all aspects of solar construction, along with 288 hours of related technical instruction.
"As part of our program, we also provide leadership and key life skills designed to empower our workforce with knowledge," McAllister says. "Our mission is twofold, creating career-minded, highly skilled and well-trained workforce and well-rounded family members that are poised to achieve their potential."
The program is conducted in conjunction with the Florida Department of Education. When apprentices complete the program, they will receive a Nationally Recognized Certificate in the Occupation of Solar Installer. The program will be expanded to cover all states where Moss traditionally builds solar and battery projects.
Rethink Electric announced Feb. 1 that its 2023 apprenticeship cohort is its largest class to date with 23 apprentices. CEO Dawn Heid says that the Illinois Climate and Equitable Jobs Act (CEJA) signed by Gov. J.B. Pritzker in 2021 and the IRA in 2022 both "contribute greatly to the current momentum in the Illinois solar market."
"Not only is our business growing and creating jobs," Heid says, "but other non-union renewable energy contractors need more skilled technicians to fill their project needs."
The apprenticeship cohort, called Rethink Electrical Advanced Program (REAP), is an education program originally developed by the company in 2017 to train its own workforce.
"REAP apprentices are learning the same skills that an International Brotherhood of Electrical Workers (IBEW) journeyman electrician would learn, and it is the same with a National Center for Construction Education and Research (NCCER) program," Heid says. "These are electrically based programs taught worldwide and are the standard for electrical apprenticeship training."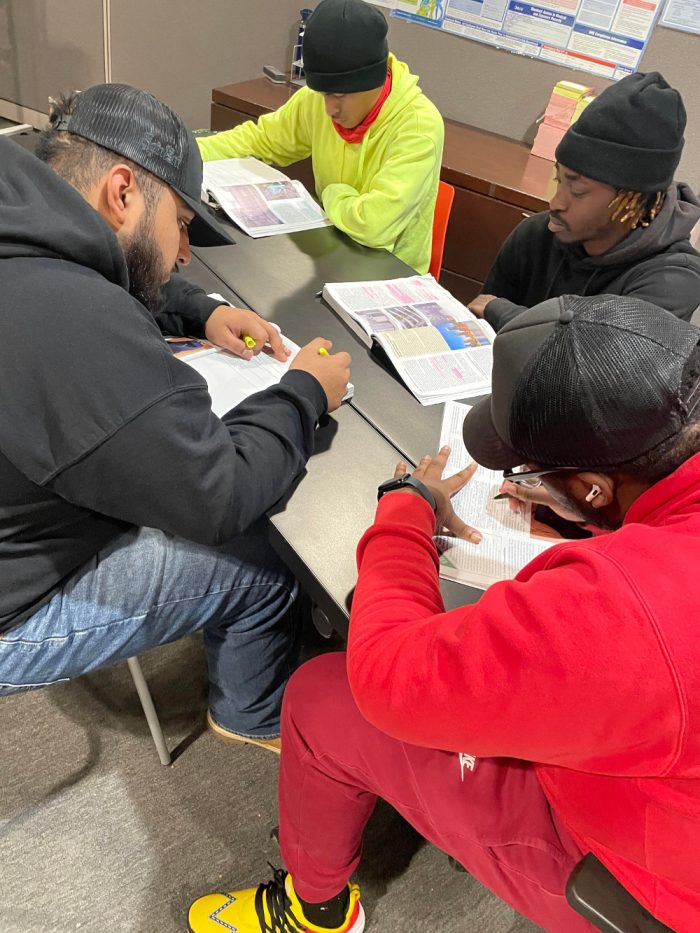 From the beginning, REAP participants are paid employees of Rethink Electric, assigned to jobs that help them learn the basics of solar construction, including how to use the tools, how a jobsite runs and completing OSHA 10 safety certification. For the next four years afterward, participants follow a traditional paid electrical apprenticeship that includes classroom work and job training, with the goal of graduating to a journeyman level.
Apprentices come from multiple referral sources throughout the state. Rethink Electric's director of education reaches out to local high schools and partners with pre-apprenticeship programs through the Chicago Urban League Workforce Development Center, Revolution Workshop and HAICIA.
REAP will graduate seven journeymen this spring, and will be adding a similar number of new apprentices to its program.
"With online access to REAP," Heid says, "we could see anywhere from 80 participants in our program to well over 100, depending on how much interest is expressed."
Both Moss Construction and Rethink Electric programs are recognized state RAPs, Moss through Florida's State Apprenticeship Agency and Rethink through the state of Illinois. However, Rethink is in the process of applying for a federal designation, which involves additional paperwork and audits.
"Rethink Electric is licensed in 16 states, so our plan is to get federal designation so that we can expand into different states and so REAP can be adopted and used by other solar contractors like us to build up their workforce," Heid says.
Moss and Rethink both have measures in place to ensure apprentices have sufficient mentorship.
"Our standards ensure we have a journeyworker to apprentice ratio of 1:1," McAllister says. "Therefore, we will only have as many apprentices as we have journeyworkers to mentor them. This ensures apprentices are receiving the guidance and support they need."
Some states have different requirements for the ratio between apprentices and mentors.
"There are regulations on most jobsites that require you to have a certain ratio of apprentices to journeymen," Heid says. "Typically, that ratio is 3:1 in the Illinois markets, sometimes 4:1. We follow all guidelines laid out by unions or prevailing wage."
What is the state of the solar workforce?
While growth in the solar industry presents plenty of opportunities, those opportunities come with some challenges.
"The demand for utility-scale solar will be growing for years, and with that comes the need to grow our solar workforce to meet the demand," McAllister says. "That demand creates tremendous opportunities for people to start or transition their careers into solar. Our challenge is onboarding and training those people in a timely manner to meet that soaring demand."
While Heid says that the IRA has been beneficial for the solar industry, it has also created some difficulties.
"The solar workforce is growing in almost every state in the U.S.," Heid says. "While companies have always had challenges finding labor because the industry is new, a couple of new hurdles are definitely making it more challenging to fulfill workforce needs in this market.
The IRA has changed how the solar industry has functioned in various states, says Heid, adding that the prevailing wage and apprenticeship requirements "put constraints on an already constrained market."
"That being said, we saw this coming," Heid says. "Solar can be complicated and at times dangerous, which makes apprenticeship programs much more important. Rethink Electric was operating an apprenticeship program and paying prevailing wages prior to the IRA because our apprentices put in a serious commitment. We need to develop them into skilled construction professionals to make sure our jobs are completed correctly."
Rethink Electric was already used to operating under prevailing wage requirements after the passage of the CEJA in Illinois, which was another reason the company brought its apprenticeship program in-house in 2021.
"Offering prevailing wage can be difficult for a company because it can change how a company operates," Heid says. "For one, adhering to the hours you have budgeted on a jobsite is extremely important. And two, mistakes become very costly because there are significant investments involved in both the equipment and the employees. That is why training becomes important. You want your crew to be as educated as possible to be able to do their job correctly and be as productive as possible when they are on the jobsite."
The ideas behind Rethink Electric's apprenticeship program go back about five years, Heid says, and since then 96 employees have started working for the company through the REAP initiative.
"We recognized many years ago that labor is hard to find in the construction market," she says. "Previously, apprenticeship-style programs were very popular in the construction world. But after 2008, many companies either went out of business with the economic downturn or stopped investing in those programs."
Rethink Electric understood that there was a labor gap and that the company needed a new solution to the problem. If the company was going to continue to grow exponentially, it would need "a continual pipeline of training and employees." Prior to developing REAP, the company partnered with the Associated Builders and Contractors (ABC) to have a select group of employees go through ABC's apprenticeship program. However, more was needed.
"We quickly realized that this market is booming, and we were going to need to do something on a larger scale," Heid says.
That's when Rethink Electric brought the whole program in-house.
"We went through all the accreditations and registrations. Instead of having just selective people in the program, we could put most of our employees through the training," Heid says. "The REAP initiative would allow us to scale to this new market in Illinois, as well as nationally and federally."
Benefits of a solar apprenticeship program
Developing an in-house apprenticeship program aimed at growing the solar workforce has led to several benefits for both Moss and Rethink, as well as some lessons learned.
"The biggest lesson is something that Moss has known since its founding," McAllister says. "You succeed with great people. Invest in your people by properly investing the time and effort needed to build a truly exceptional apprenticeship program."
Rethink's apprenticeship program has helped the company solve the challenge of growing its labor power.
"The most significant benefit the REAP training has given us is a stable job force," Heid says. "Construction is notorious for high turnover rates and in a new market like solar, it can be hard to attract employees."
Heid adds that the REAP initiative has also built a strong culture for Rethink Electric and improved retention for the company.
"Beyond the skills training and pay, we provide many other things," Heid says. "Our culture is quite open and honest and as transparent as we can make it. Everyone has a voice and a way to express themselves here. That is another big contributor to our lower turnover. In addition, quite a few friendships are being made, especially on the jobsite. There is a lot of camaraderie when you are going to class with the same people you are working on a rooftop with. We create a family atmosphere in the end because it truly is a community."
With the increased demand for solar, Heid says Rethink's apprenticeship program can help others grow with the industry.
"If other businesses need a leg up to start an apprenticeship program, they could purchase seats in our program," she says. "Rethink Electric is developing an online version of REAP, so that similarly to how ABC helped us before, we are partnering up and offering this option to other installation companies, especially in other parts of Illinois and other states."
On a personal level, Heid is willing to help others in the industry develop their own apprenticeship program.
"I believe in solar. Renewable energy is the core of our business. So many people who are in the solar industry are here because we see the environmental benefits," Heid says. "I really don't want any hurdle that will hamper us in meeting any state or national climate goals. We've learned a lot of lessons in developing an apprentice program and growing our own workforce. If I can help pave the path for others so that they can do it as well, I'm here to help."
Developing an apprenticeship program took a lot of work for Rethink, but the return on investment has exceeded Heid's expectations.
"Our biggest takeaway is that developing a training program is worth the effort," Heid says. "We spent two years preparing by completing research, audits and site visits from NCCER and the Department of Labor. We went through an extensive process to become accredited, licensed and registered. There were a lot of boxes to check off along the way, and we were kind of the pioneers in our area because only a few contractors near us have apprenticeship programs, and even less in solar installations."
---
Bradley Kramer is managing editor of Solar Builder.
post_content ); ? –>
Listen to more in-depth conversations on Solar Builder's YouTube channel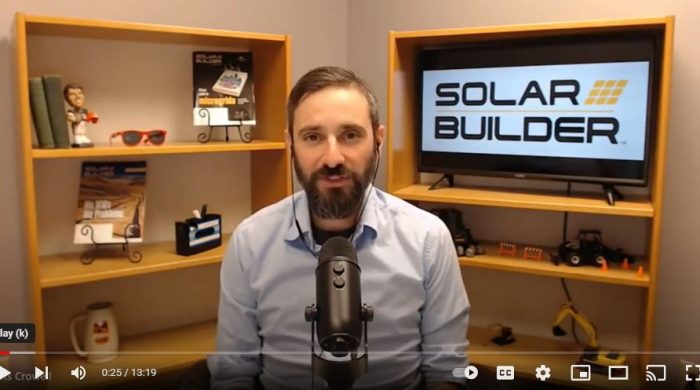 Our most popular series include:
Power Forward! | A collaboration with BayWa r.e. to discuss higher level industry topics.
The Pitch | Discussions with solar manufacturers about their new technology and ideas.
Tags:
C&I
,
commercial and industrial
,
Moss Construction
,
Residential Solar
,
Rethink Electric
,
solar apprenticeship programs
,
utility-scale
,
workforce
This article was originally published by
Solarbuildermag.com
.
Read the original article here
.